Golden Dinner in the Terrace of the Tower
At the height of the tenth floor in the castle of San Gimignano, overlooking the towers, enjoying a dinner based on saffron and truffle risotto and sipping reserves of prestigious wines, the Tenuta Torciano winery presents the package for vip guests for a romantic dinner on the terrace more exclusive of Tuscany.
A terrace set between the 12 Towers of San Gimignano, inside the Palazzo and Torre Chigi, thanks to an agreement with the Giachi family, owner of the building on most plans. It is the most beautiful location exclusive to enjoy a breathtaking view and to celebrate an even more special occasion; exclusive, like a special wedding between people, an anniversary to remember over time, a historic birthday and much more.
For our most demanding customers, there will be the possibility to further enrich this experience by booking an elegant and exclusive dinner on the terrace directly on the tower of Palazzo Chigi. The wonderful location of our terraces together with the excellent professionalism of the staff of Tenuta Torciano Winery will contribute to creating a unique and magical moment, with an atmosphere of a thousand and one nights, for customers who are looking for something they have never experienced.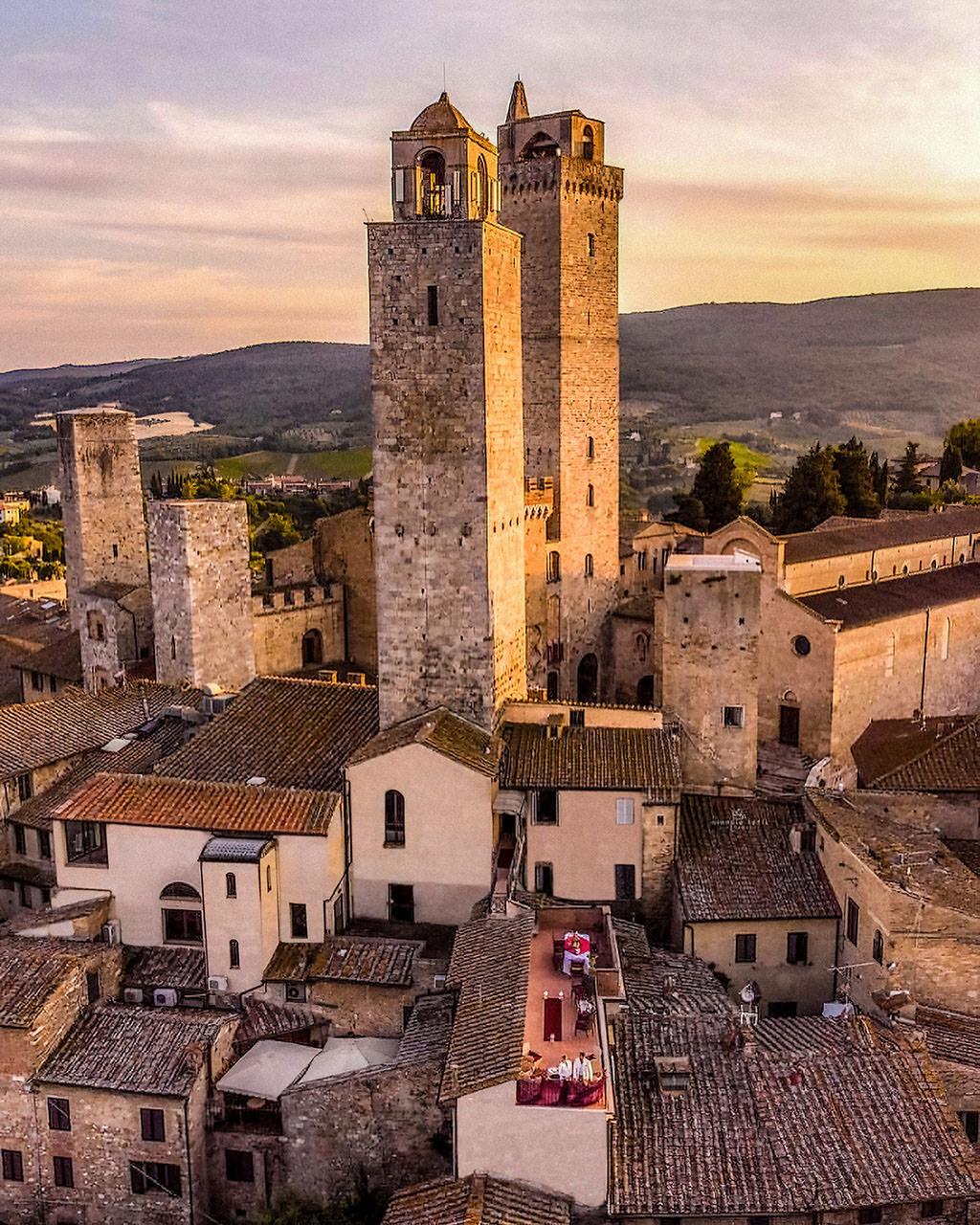 Table with a View of the Towers
Dinner takes place in a private area of Palazzo Chigi, inside the private Torre Chigi, by professional chefs of Tuscan cuisine and by sommeliers from the prestigious Tenuta Torciano winery.
The dinner menù is completely customizable by the customer, but our cooks offer a formula base that features sophisticated seasonal ingredients such as truffles, caviar and meats of the highest Tuscan selection, accompanied by prestigious wine reserves such as Brunello di Montalcino, Bolgheri selection, Blends of Sangiovese and Cabernet Sauvignon and finally a 2010 reserve of Dom Perignon.
At Sunset you can enjoy a unique and incomparable view of the towers of San Gimignano and the panorama that can be lost in sight up to Florence, passing through valleys and mountains and lush hills, all this before, during and after dinner for connoisseurs of the beautiful, four courses, prepared on the spot by our Chefs.
We can arrange virtually anything.