golden dinner in the terrace of the tower
At the height of the tenth floor in the tower of San Gimignano, overlooking the towers, enjoying a dinner based on saffron and truffle risotto and sipping reserves of prestigious wines, the Tenuta Torciano winery presents the package for vip guests for a romantic dinner on the terrace more exclusive of Tuscany.
This is how the tower came to be called Tower Chigi, now propriety of the Cilemmi-Giachi Family.
Built in 1280, the Useppi Tower, now called Chigi, belonged to the family of Useppi. The tower, although not very high, is one of the fourteen historic towers of San Gimignano, and is situated in Piazza del Duomo.
The Useppi were very powerful sienese citizens, owners of many castels.
In 1214 the Useppi settled in San Gimignano, where they went to live in Useppi Tower Palace, next to the Palazzo del Podestà, in the beautiful Piazza del Duomo.
When the noble Useppi family became extinct, the heirs who took the properties of the noble family were the family called Chigi-Saracini. The last representative was count Guido Chigi-Saracini in Siena.
In 2002 the Cilemmi-Giachi family bought this tower.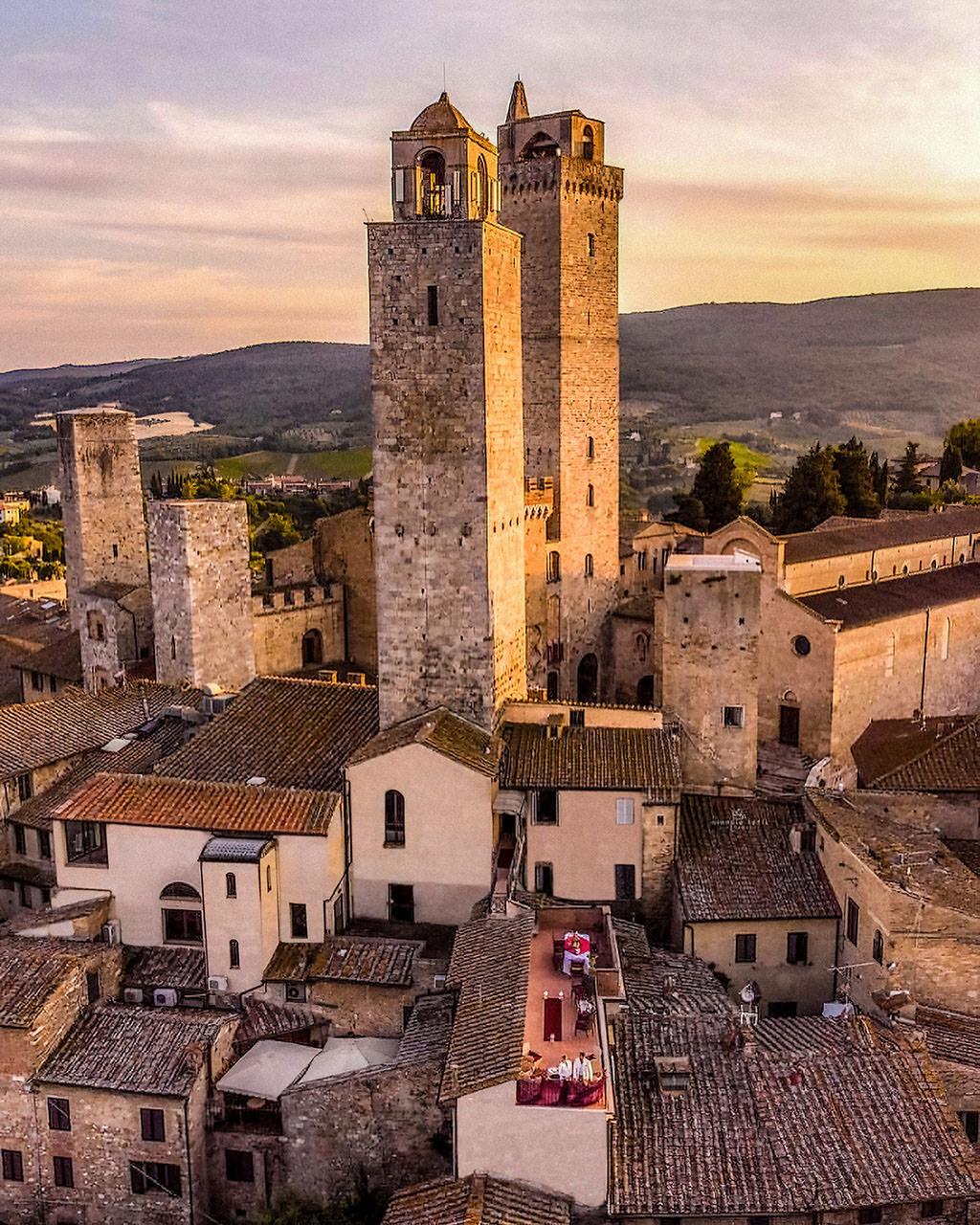 The first three floors are covered with stone, well squared cut drafts, which open on the lights with low arches.
It is the height of each floor are aligned trampling of neat rows of four scaffolding holes each, equipped with shelves, which look like wooden balconies that once had to increase the surface Arrange.
The tower is flanked by medieval buildings: one to the left of particular value for the valuable presence of mullioned windows with nice workmanship.